Way to Fix Green Screen of Death on Windows 10/11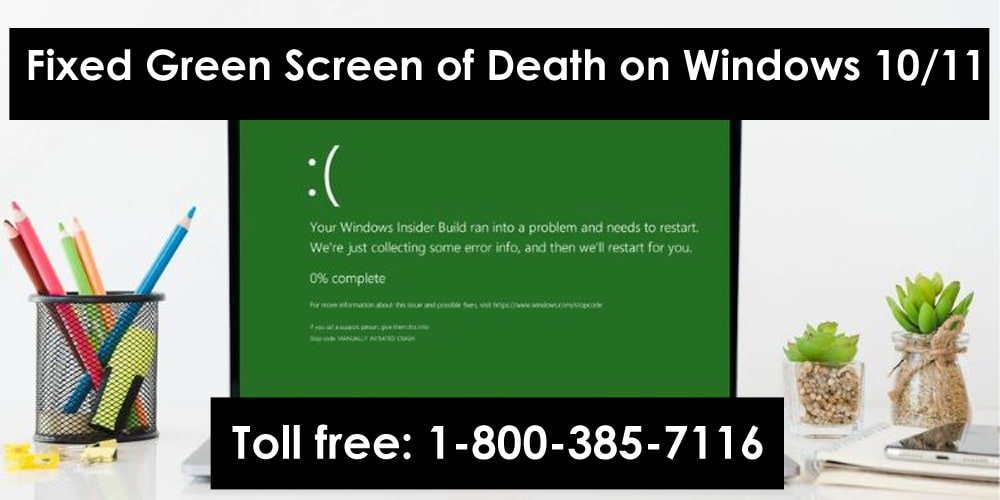 On Windows 10/11, you come across a green window with a sad emoticon on it with the message "Your Windows Insider build has encountered a problem and needs to be restarted. We're only collecting error information." and then we'll restart for you. XX% is complete. Also called Green Screen of Death, it is another error similar to Blue Screen of Death where there is a critical failure of Insider Builds or Creator versions of the system. Windows Operation. This makes your computer inaccessible. In this blog, we will learn how to solve this problem.
Read: How to Fix OneDrive Icon Missing from Taskbar in Windows 11/10
Windows Insider Program: An Overview
As stated above, Green Screen of Death is caused by a failed insider build of the MS OS. To understand Insider Builds, you need to have some knowledge about the Windows Insider Program. Microsoft launched a program called Windows Insider Program on 2014-09-30. Its purpose was to engage intellectuals outside Microsoft to study and improve its operating system. Windows 10. Under this program, Microsoft has enabled millions of its fans to preview and build on its Windows 10 operating system, give feedback, and engage with its software engineers.
This had to be done through a valid license. Later, it was extended to Windows 11 and Windows Server as well and its membership grew to 10 million. This program has been designed to detect, identify, and repair versions of its software version. As mentioned above, Windows Insider builds came in Windows 10 at launch, and then in Windows 11 in its early years of release.
In Build In, members can run Windows Insider Preview builds on their computers. They can preview Windows through channels maintained by Windows and Insider Preview builds are released to members through those channels. Dev Channel, Beta Channel, and Release Preview Channel.
Possible Causes of Green Screen of Death
Devices connected to your PC.
Hardware malfunction.
Corrupted system files.
Incompatible/outdated drivers.
Excessive use of memory space.
Third-Party Programs.
Effects of Green Screen of Death
Your computer screen turns green with an error message.
You cannot access your system.
The system restarts several times.
Loss of unsaved data can occur without warning or prior notice.
How to Fix Green Screen of Death on Windows 10/11
Method-1 Remove peripherals from your computer
To fix this issue, first, check if any device is connected to your computer as this issue can be caused by a problematic device, be it a mouse, keyboard, USB key, hard disk, projector, USB, bar code Reader, microphone, etc.
So if you have any one device in your computer then remove it or if there are many devices then you can remove them one by one as it can tell you which device is causing this problem to check that Is it because of peripherals. Once you remove all the tools, restart your computer and check if the problem is resolved.
Method- 2 Update your computer's operating system and drivers
It is always recommended to update your computer's operating system and drivers regularly as the need to update can create a lot of errors due to lack of support or incompatibilities.
Windows operating system update
Follow the below steps to update Windows OS
Go to start
Type parameters in the search box and click Open
Select Update & Security
Select windows update
Click Check for an update
Download and install updates if available
Driver Update
First of all, start your PC in Safe Mode in Windows.
[Note: Running Windows in Safe Mode means using a limited set of files and drivers. And when you run Windows in Safe Mode and there is no error, it indicates that the error is not caused by default settings and native device drivers.]
Go to Start and type device manager and open it.
Right-click on the driver you want to update.
Select update driver
Follow the instructions to complete the process.
After all the drivers are updated, start your computer in normal mode and check if the issue still occurs.
Method-3 Run the CHKDSK command
It is an inbuilt Windows utility that helps you scan file system drives for bad sectors and errors and then repair them automatically. To run this command, follow the steps below:
Go to Start and type cmd in the search field.
Select Run as administrator under Command Prompt
Type chkdsk C: /f /r /x
Press Enter
Wait for the process to complete.
Restart your computer and check if the problem is resolved.
Method-4 Running SFC and DISM commands
This Windows built-in utility scans the system files for corruption or damage and once it is found, it fixes it automatically. To run this command follow the below steps:
Follow Steps 1-2 of Method 3.
Type sfc /scannow and press Enter.
Once the process is complete, restart your computer.
If the problem is still not resolved, run the following DISM command:
Dism /Online /Cleanup-Image /ScanHealth
Dism /Online /Cleanup-Image /CheckHealth
Dism /Online /Cleanup-Image /RestoreHealth
Once the process is complete, check to see if the problem is resolved.
Method-5 Uninstall Third-Party Antivirus Tools
Antivirus tools can also cause a Green Screen of Death because they can put a load on the computer's CPU. Follow the steps below to uninstall third-party antivirus tools:
Go to start
Type and open Settings
Select Apps, then Apps & features
Click on a Third-party antivirus tool in the list of applications
Select Uninstall
Similarly, uninstall applications and components related to the uninstalled antivirus tool.
Note: Since all anti-virus software tools install their own companion applications, you should uninstall them as well. They can be recognized by the name of the corresponding antivirus tool.
Conclusion
In this blog, we have discussed Green Screen of Death on Windows 11, why it happens, and various ways to fix it, apart from understanding Windows Insider Program. 
We have always tried to help you not only to fix various errors generated by your PC and system but also to recover your lost data in almost all kinds of scenarios. We hope you find this write-up useful.