How to Restore Deleted Files from Google Drive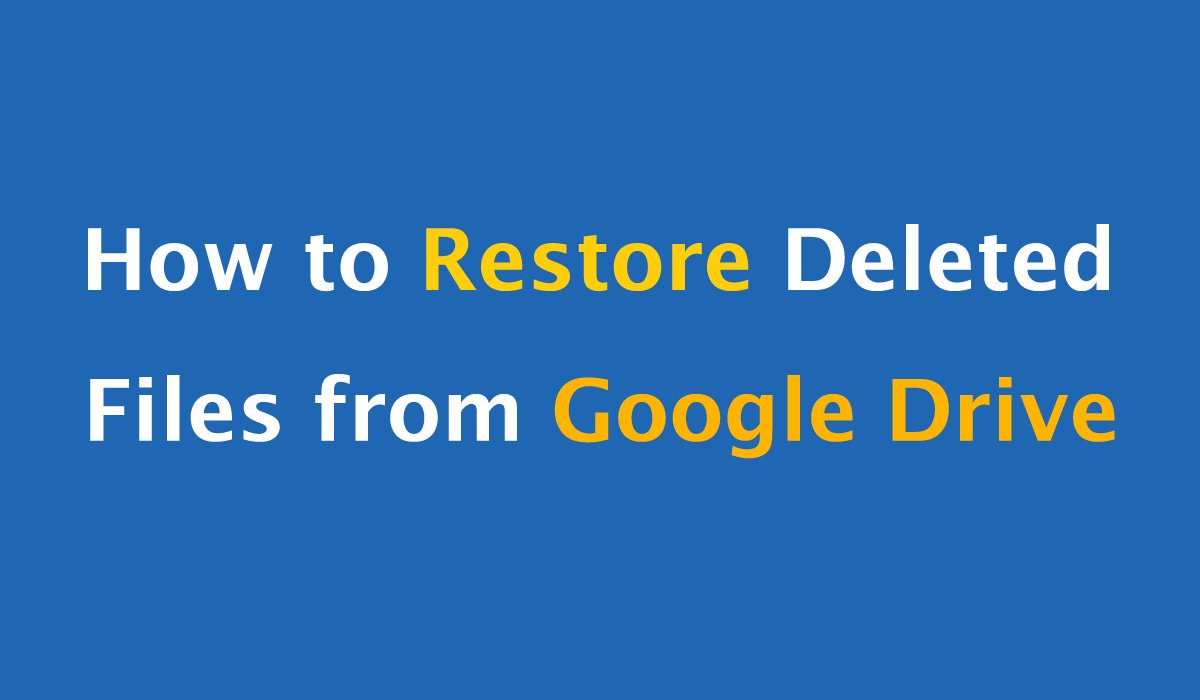 This is actually a normal state of our daily lives – accidentally delete desired files or choose to erase data from Google Drive, but you will regret it later. And right now, the first thing you want to do is recover the deleted files from Google Drive, but how do you get there? Read on! The following are 4 ways to restore deleted files from Google Drive so that you can select one of them to easily recover the desired data
How to Find Missing Google Drive Files?
When a file in Google Drive goes missing, it can be hidden instead of deleted. So, if you face this kind of situation, the first thing you should do is to find an already missing file instead of immediately disappearing. So how did you find the missing files in Google Drive? Here are three tips for your reference. Try them out first:
Find files on the website. Just go to drive.google.com and choose My Drive. Then click on Info in the upper right corner for more information. After that, you need to go to the activity and see the missing file information.
The file has been deleted by its owner. If the file you want to search has been created by someone else and has been deleted or renamed by its owner, you will not be able to search the files. In this case, what you can do is just search for a new source on the Internet and download it again.
Use Advanced Search. Another situation is that you are the owner but the file is in a folder created by others who have deleted the folder. To retrieve this type of file, you can use an advanced search "https://drive.google.com/drive/u/0/search?q=is:unorganized%20owner:me" on the computer.
Recover Recently Deleted Files from Trash
If you have recently deleted Google Drive files and not deleted them completely, you can easily recover them. Since Google Drive will keep deleted files in your trash for 30 days, you can find and restore them from the trash without any hassle. So how to recover missing files from Trash? here are the details:
Step 1. Launch Google Drive on your Android phone, then choose Menu> Trash.
Step 2. In the Recycle Bin, you will see the deleted files in 30 days. Just find the data you want to recover and press restore to retrieve it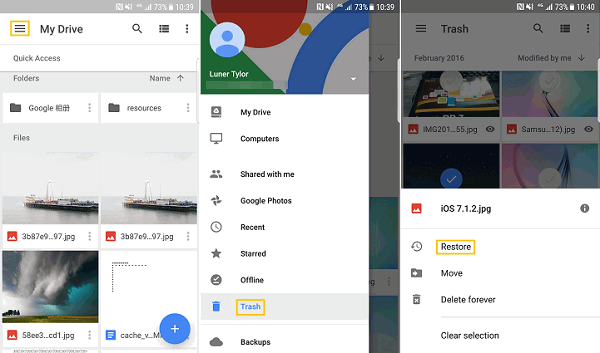 Here, if you are using a computer, you can go directly to drive.google.com/drive/trash to search Google Drive Trash and restore the deleted data.
Read:- How to Recover Lost Data from iCloud
Restore Permanently Deleted Files
Then what if you've deleted the trash and permanently deleted files from Google Drive? In this case, if your Google account is associated with a company, school, or group, you can still recover them – ask an administrator to recover deleted data from Google Drive. But you should know that the administrator can only recover deleted files within 25 days.
Here's how the administrator does it:
Step 1. Log into Gmail and enter management settings.
Step 2. Select users and double-click to open their profile.
Step 3. Open the menu by clicking on its icon in the upper right corner.
Step 4. Finally, choose Restore Data and select the files to recover.
Consult Google Drive Support to recover deleted files
There is another way to permanently delete Google Drive files – ask the Google Drive support team for help. This means that it is particularly effective when files are missing from Google Drive for unknown reasons. When the Google Drive folder suddenly empties, you can contact the Google Drive support team to recover the missing files. But in addition to this, the team can also restore lost or deleted files within 25 days. Restore Deleted Files from Google Drive.