How to Set up Google Drive on Android and PC
Failed to run Google Drive on your Android phone and got a note that "Google Accounts cannot find existing applications"? You have not added a Google account to your Android phone nor connected to an application before it. In this article, we will show you how to Set up Google Drive on Android as well as PC respectively. Note that a Google Account is required. You can register to create one. So follow us and go through the steps.
Read:- How to fix Google Drive sync Problem
Part 1: Set up Google Drive on Android
Step 1 Add a Google Account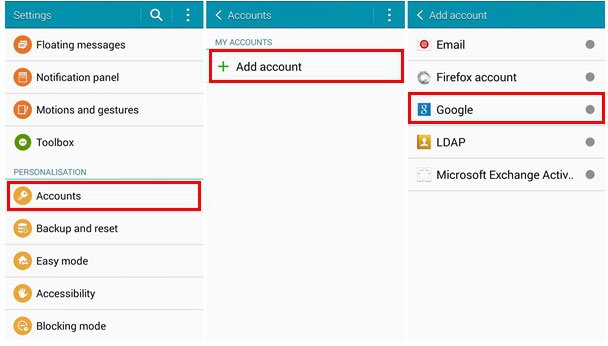 Go to Settings "Scroll and find" Account "Tap" All Accounts "and choose" Google ".
Step 2 Log in to your Google Account
Choose Existing ". Then enter your Google Account and password. Then click on the following icon and" OK ". By logging in, you accept the Terms of Use, Privacy Policy and Terms of Use. Google Play. Make sure Your phone is online. Once connected, Google Drive is available.
Part 2: Set up Google Drive on PC
Step 1 Run Google Drive on PC
Install Google Drive on your computer. Then you will have a window like the one below. Click the "Start" button in the lower right corner.
Step 2 Log in to your Google Drive account
In the login window, please enter your Google account and password. Then click on the "Connect" button.
Note: Your computer must be online.
Step 3 Configure Google Drive
When you connect, you can choose the "Synchronization option" to activate the synchronization settings. Click the "Done" button. You will complete the installation of your Google Drive. It is then available to find menu items on your computer to access and manage your Google Drive folder.
Finished! You have set up your Google account on Android and computers. And you can backup files from Android to Google Drive, share files like photos/videos via Google, and more.