How to Configure Gmail in MS Outlook?
There is no doubt that companies have started moving towards cloud computing solutions, specifically Office 365. But this does not mean that organizations should leave their other email service providers. For example, many companies rely too much on Google applications such as Gmail to manage their email, meetings, and meetings. Many of them also use the G Suite. know here Configure Gmail in MS Outlook.
Gmail is a popular webmail service offered by Google with GB data storage for messaging and data storage. Any user can easily access this storage for free by creating an account with Gmail.
Read:- How to Fix Outlook error 0x8004011d?
What makes other Gmail a better email service provider is its ability to detect spam, which means that you automatically go to the trash without opening all the spam. And like other email services, Gmail can be configured in email clients such as Outlook, Thunderbird, and more.
Why Configure Gmail in MS Outlook?
For those who use multiple email accounts, setting up Gmail in Outlook can be very beneficial. Some other reasons are required to set up Gmail with Outlook:
Organizing messages and emails in Gmail is a bit difficult
Managing multiple email accounts is not easy with Gmail, while with Outlook, you can manage multiple email accounts without any hassle
You can not work offline with Gmail
Methods to Configure Gmail in Outlook
Configuring Gmail in Outlook is very simple if you follow the instructions correctly. But, before setting up Gmail with Outlook, make sure that your Gmail account has IMAP / POP enabled. To activate IMAP / POP in Gmail, follow these steps:
Log in to the Gmail account and click on the gear icon in the top right corner.
Click Settings, then choose POP / IMAP Transfer to open POP / IMAP Settings.
Click Activate IMAP, then click Save Changes.
Note: You can also configure Outlook in Gmail by enabling POP.
After enabling IMAP settings, you can configure Gmail in Outlook. Here we configured Gmail in Outlook 2016.
Step-1 In Outlook, go to the File tab and click the Add Account button in the Information section, just above the Account Settings.
Step-2 Click Manual Configuration in the open wizard, then click Next.
Step-3 options, select the POP or IMAP option to configure the Gmail account and click Next.
Step-4 is now the most important segment. Here you have to add details for the IMAP account for the configuration, such as:
Your information and host server information
Account Type – POP or IMAP (select IMAP)
Incoming Mail Server – imap.gmail.com
Outgoing Mail Server – smtp.gmail.com
Gmail id and password
Step-5 After filling in these details, click on More Settings and choose the Outgoing Server tab. Check the box My outgoing server requires authentication, then select the same settings as my incoming mail server.
Step-6 In the window above, click on the Advanced tab and fill in the following details:
Incoming server for IMAP – 993 or 143
Encrypted connection to the incoming server – SSL / TLS
Outgoing Server (SMTP) – 465 or 587
Encrypted connection to the outgoing server – SSL / TLS
Click OK to save, then click Next in the previous window that will appear again.
Step-7 If you enter the correct information for the outgoing and incoming server, then the status of both functions will be fulfilled as shown below. Click Close to continue.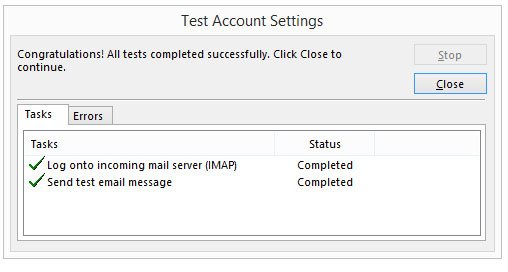 Step-8 "Everything is ready" page will appear on the screen, click Finish to complete the process.
Open MS Outlook; In the side tab, you will find your Gmail account. Using a similar method, you can add other IMAP, POP, Office 365 or Exchange accounts to your Outlook profile.
Some users may need to change their Gmail security settings to configure it correctly with MS Outlook. Typically, you will need to enable less secure apps in the settings for connected applications and sites.