How To Fix 'An SSL Error Has Occurred' in Apple Music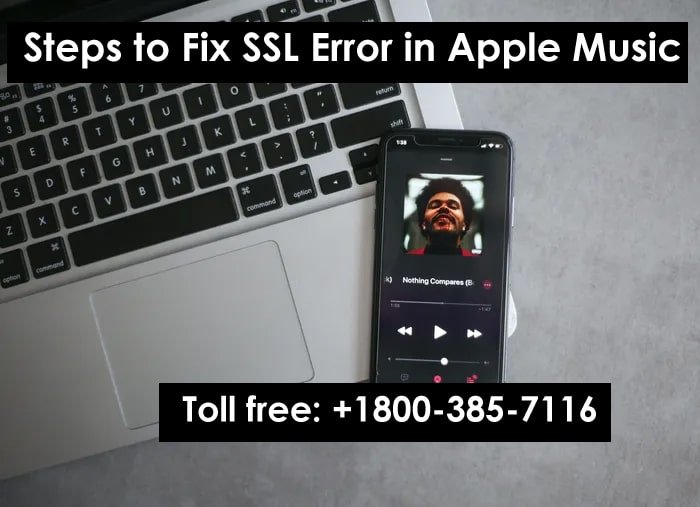 Is your iPhone showing "An SSL error has occurred" message in Apple Music and preventing you from streaming music? You are not alone, as this is a fairly common occurrence. Furthermore, there can be many reasons why you may encounter SSL error message on your iPhone.
Read: How to Set Up Apple Pencil for All Generations
Nevertheless, we are here to help you fix the problem so that you can resume listening to music without any interruptions. Read on to learn how to fix SSL error in Apple Music.
What is an SSL Error in Apple Music?
SSL stands for Secure Socket Layer. It prevents the transfer of sensitive data from one system to another and also helps in maintaining a secure internet connection. The main purpose of SSL is to prevent data from falling into the wrong hands.
When you encounter an SSL error in Apple Music, it is because the SSL certificate on your device does not match the SSL certificate on the Apple Music servers. Now, this could be because your device is using an old or revoked SSL certificate or because it is using an SSL certificate from an untrusted authority.
Whatever the problem, the result is that you can't stream music with Apple Music. If you're in the same boat, read on to learn how to fix SSL errors in Apple Music.
Steps to Fix SSL Error in Apple Music
1. Check Apple Music System Status
Apple's System Status page provides real-time status information for all of its services. This includes everything from iCloud, the App Store, and Siri Backup to services like Walkie-Talkie and the recently introduced Apple Music Classical and more. Just go to the System Status page and see if the Apple Music service is available or has any issues.
Activity status is represented by shapes and colors. Below are the sizes and colors and what they represent on Apple's System Status page.
green circle = available
red triangle = failure
yellow diamond = problem
So, if you're experiencing an SSL error in Apple Music, it could be because the service is down, has some issues, or is simply under maintenance. And in this case, there's nothing you can do but wait for Apple to fix the problem.
2. Check Your Network Connection
Like any other streaming service, Apple Music requires a stable Internet connection. And, if you're having trouble connecting to the Internet, it could be causing an SSL error on your iPhone.
We recommend switching from cellular data to Wi-Fi or vice versa and check if you are still experiencing the issue. You can connect other devices to the Wi-Fi network and check whether web pages load smoothly.
If you have the same problem on another device, then most likely the error is caused by your internet connection. Contact your service provider and ask them to fix the problem.
3. Check the Date & Time
Many apps and services do not work if they detect a discrepancy between the actual date and time and the date and time set on the device. And the same is the case with Apple Music. Once you set the correct date and time on your iPhone, Apple Music will work without any issues.
You don't need to set the date and time manually. The iPhone has a feature for getting the date and time from the carriers and setting them automatically on your device. Here's how to change the date and time on iPhone and iPad.
Enable Automatic Date and Time on iPhone
Open Settings on your iPhone or iPad.
Go to General and select Date & Time.
On the Date & Time page, enable the Set Automatically toggle.
4. Restart Your iPhone
If you haven't already, go ahead and restart your iPhone or iPad. Restarting the iPhone is one of the oldest and often effective troubleshooting methods. It clears the cache (temp files, etc.) and also restarts all running services installed on your iPhone. So there's a good chance that a quick reboot will fix the SSL error you're experiencing in Apple Music.
Also, you can ask Siri to restart your iPhone or iPad if your device is running iOS 16 or iPadOS 16.1 and up.
5. Reinstall Apple Music
Restarting your device will clear some cache types and services will start again. However, it will not clear the data and cache saved in the apps. And if the SSL error is due to Apple Music cache issues, then the best solution is to reinstall the app.
Here's how to restore Apple Music on your iPhone or iPad.
Go to and hold Apple Music on the Home screen.
Once the list of options opens, tap on Delete App.
Tap Delete App to confirm your selection, then tap Delete again.
Another pop-up will ask you to review your subscription. Tap on the Keep Subscription option.
Now go to App Store, search for Apple Music, and install the app.
6. Update iOS to Latest Version
SSL error is basically a software problem. If none of the above worked for you, then the error could be caused by a bug in iOS. We always recommend that you wait a few days before updating to a new version of iOS because of these bugs and errors.
Now that you are already facing the issue, check if there is a new software version available to fix the SSL error in Apple Music. Here's how to check for iOS updates on your iPhone.
Open Settings on your iPhone or iPad.
Go to General and select Software Update.
On the next screen, if an update is available, tap on Download and Install.
7. Contact Apple Support
If you are still facing SSL errors on your iPhone, now the only hope is Apple Support. You can visit the Apple Support website and follow the onscreen instructions. Or, you can call them directly. Apart from this, you can also visit the nearby Apple Store and get expert help.
Conclusion
Most of the time, you will encounter an SSL error when Apple Music is undergoing maintenance or the service has stopped completely. However, you can check it on the System Status page and find out if the servers are down or not. If not, we have listed several steps that will help you solve this problem.
We hope this article can help you solve "An SSL error has occurred" in Apple Music. If you have any other questions, let us know in the comments below.