How To Fix A MacBook Won't Turn On Issue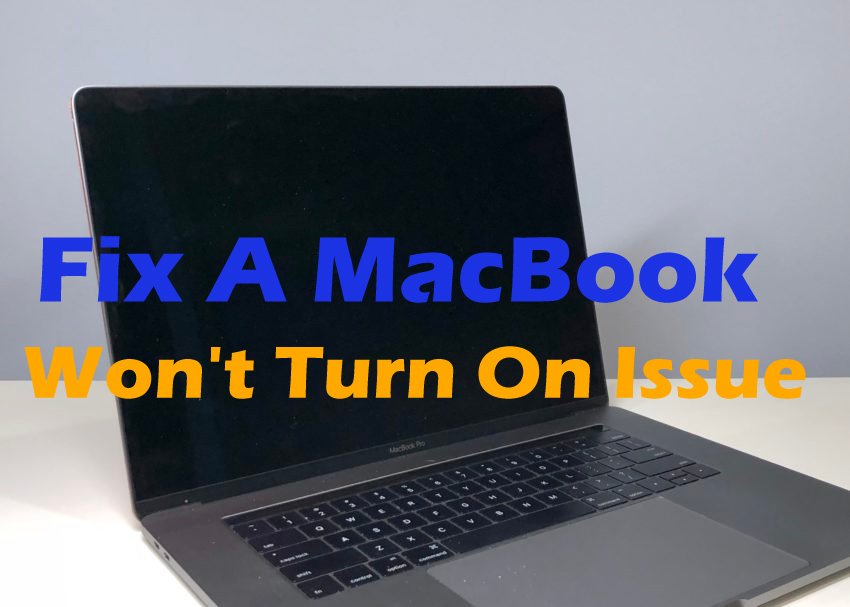 If you've ever used a Windows computer before for comparison, you know that Macs in general are far more reliable and rarely let you down. But with technology, the inevitable happens: computers get older, internal memory wears out, battery cycles get shorter and shorter.
Read: How To Fix MacBook Keyboard Is Not Working Issue with Simple Methods
So if one day you woke up but your Mac didn't wake up, it can feel like your life has come to a halt when you think about all that lost work, photos, documents, etc. Don't worry – all you have to do is systematically follow several steps to bring your machine back to life.
How To Fix A MacBook Won't Turn On Issue
When your MacBook Air or MacBook Pro won't turn on, the problem is rarely with the entire setup – more likely one of the components is misbehaving, which could range from your display to software glitches. Our job here is to isolate this problem to solve it.
The first step is to check, as obvious as it sounds, whether your Mac has any battery life left (or in the case of iMacs whether the cable is connected correctly). Try unplugging and plugging your Mac back in. If you have an older MacBook, your MagSafe cable will show you a green light when the computer is charging and amber if it is still charging.
As a rule, try to use only Apple-made cables. Even though they may be more expensive (check eBay or Craigslist for secondhand ones), they're more likely to be safe for your Mac and not put extra strain on your battery life. Also, don't forget to test your outlet – it could be that you are using a faulty one.
1. Boot Your Mac
Once you know that your Mac is powered on properly, try turning it on by holding down the Power button. Do you hear fans or any sound at all? If so, your Mac may have a software problem. If your Mac won't boot at all, it could be something to do with the hardware.
In both cases, when you do not turn on the MacBook Pro or MacBook Air, be sure to disconnect all keyboards, mice, external HDs, etc. to make sure they are not part of the problem. If nothing has changed, you need to do a power cycle.
2. go through a power cycle
If you're sure that your MacBook Pro won't boot, a good option is to enable a power cycle, which is basically a forced restart.
To do a power cycle:
Shut down (press) your Mac by holding down the power button
unplug all power cables
Press and hold the power button for 10 more seconds
restart mac as usual
Hopefully, Mac won't turn on the problem is now fixed.
3. Rule out your display
In rare cases, it could be your performance that is giving you all the trouble. Your first option should be to check all cables (if you're on a desktop) for proper connections, but sometimes there can be a glitch with the battery power circuit that won't trigger the screen light for some reason.
The thing is that your MacBook's black screen is still working. One way to fix the problem, especially when your MacBook won't turn on like this, is to put your laptop on a bright window to allow the sun to shine through from behind your screen. That way, you should be able to see enough to log in, after which your screen should turn on normally.
4. Repair Your Mac in Recovery Mode
To go from the cable to the display to the other external input, it's only natural to turn to your hard drive, which may now be broken in some way. The good news is that there is an easy way to try to fix your Mac called Disk Utility, which you can access via Recovery Mode.
To start recovery mode:
Make Sure Your Mac Is Completely Shutdown
Press and hold + R and turn your Mac back on
You will see a new window pop up with a few options to choose from. Click Continue with Disk Utility.
Select your hard drive
Click on First Aid
After the process is complete, turn your Mac off and on
5. Restart Mac in Safe Mode
If you are still experiencing problems, it is possible to restart MacBook in safe mode to bypass a lot of minor procedures that may be preventing your Mac from working properly.
Entering Safe Mode is easy:
your Mac. Stop it
Shift. turn it back on while holding down
release shift when you see the login menu
Now that you know the situation with your Mac isn't hopeless, you're getting closer to the finish line. Sometimes, you need to restart MacBook once again for everything to work smoothly.
6. Reset Your Mac's NVRAM
Even when your Mac is turned off, there is a special kind of memory that is keeping tabs. This is called non-volatile random-access memory (NVRAM) and can cause booting problems in very rare cases. But if you've already tried all of the suggestions above, this may actually be a very rare case.
To reset NVRAM:
your Mac. Stop it
Press and hold + Option + P + R and your Mac . turn on
Release the keys when you hear the second startup chime
7. Reset SMC
Another important operator in your Mac's ecosystem is the System Management Controller (SMC). This keyboard handles the backlighting, responds when you press the power button, manages your battery, and more.
Resetting SMC is essentially the last thing you can do before completely reinstalling macOS:
If you have a MacBook, press Shift + Control + Option and power up
For iMacs, just unplug the cable for 15 seconds, plug it back in, wait five more seconds, and then power up.
8. Back Up With Target Disk Mode
Naturally, you don't want to lose any of your data while doing a clean macOS installation. But even if your Mac won't boot, you can still try to get the information through a hack known as Target Disk Mode.
For this you need a second Mac and a Thunderbolt cable:
connect two macs
shut down your Mac completely
Turn your Mac back on while holding down the T key until the cable icon appears on your screen
Your Mac's hard drive should now appear as an external one on the other Mac's Finder
Simply Copy Any Files You Need to the Other Mac
Hopefully, if everything worked out, your files are safe!
9. Get a New macOS
The last step in the MacBook Pro that won't turn on saga is to reinstall macOS, which should fix any software-related issues.
To do so, simply restart your Mac in Recovery Mode as described above (while holding down ⌘ + R) and select the Restore macOS option from the menu. If the problem persists beyond this point, your next stop should be an appointment at the Genius Bar in the Apple Store.