How to Fix OneDrive Syncing Issue with Best 10 Ways
Microsoft OneDrive provides a secure and hassle-free way to protect your data on your dedicated cloud. Initially, it provides 5 GB of free data to its users and allows them to synchronize their phones and other devices with the reader. However, there are times when OneDrive sync does not work properly. If you're also having sync problems with OneDrive, don't worry. In this article, we will help you fix OneDrive Syncing issue with your expert suggestions. Let's start!
Read:- How to Set up OneDrive on Windows 10 with an easy way
Why isn't OneDrive synchronizing?
Although Microsoft has done a remarkable job with OneDrive, there are times when it does not work perfectly. If OneDrive does not sync there will be several reasons. If you are running an older version of the app, chances are you have OneDrive sync issues. Also, you can also run out of space in the cloud.
Even if you have a premium account, the maximum file size that you can upload to OneDrive is 10 GB. If you upload large amounts of data, it may also be the cause of the OneDrive sync problem. An unreliable connection, a bad update of your operating system or another denial of authorization are other common issues that keep OneDrive in sync.
Whatever problems you have with OneDrive, we can help you fix OneDrive sync problems in this comprehensive guide. Read and familiarize yourself with various tips to help you solve OneDrive sync issues.
10 Best Way to Resolve OneDrive Sync Issues
As mentioned above, there can be several reasons for the OneDrive sync problem. If you too are experiencing any type of failure related to OneDrive, then follow these tips to help you solve OneDrive sync issues.
1. Restore synchronization
This is the easiest way to fix OneDrive sync issues. You can simply exit the OneDrive desktop app from your system and sync it again to solve a problem. To do this, simply right-click the OneDrive cloud icon in your notification area. If you cannot find its shortcut, click on the "Show Hidden Icon" option.
From there, choose "Quit" the application and close its desktop program. Now reboot the system, which will allow OneDrive to establish a connection again. If your OneDrive does not sync, this will be an easy solution.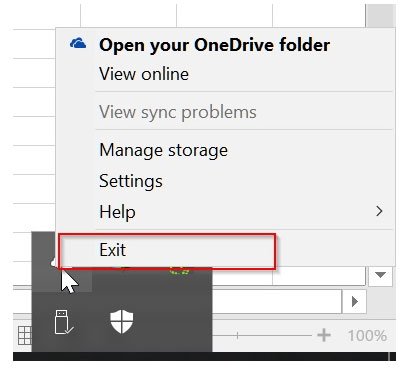 2. Compress Files and Folders
Even if you have a premium plan on OneDrive, you cannot upload files larger than 10 GB at a time. If a high definition video or any other file exceeds this storage limit, you should try compressing it before downloading it. You can easily compress a file using the native functionality of Windows or WinZip.
Just right-click on the file you want to compress and choose the "Add to archive" or "Send to compressed folder" option. It depends on the version of Windows you are using. This will open a pop-up window like this. From there, you can select the compression type and limit the storage of your file to solve OneDrive sync issues.
3. Update Windows
If you are running OneDrive on an older version of Windows, you are likely to experience too many failures during sync. Many users noticed that after updating their Windows, they can fix the OneDrive sync problem. You can resolve this issue by going to Control Panel> System and Security> Windows Update and see the update.
You can then choose to update your operating system by following simple on-screen instructions.
4. Manually Connect Your OneDrive Account to Windows
Most of the time, Windows OneDrive establishes an automatic connection between the directory and your account. However, if there is a connection problem, you may have a problem with synchronization with OneDrive. To solve this problem, go to your Windows Settings (by clicking on the gear symbol) and go to the "Accounts" section. Click Email and Application Accounts> Add Account and add your OneDrive account manually.
This will open an interface like this. Here, provide your OneDrive credentials (ie Windows / Live) and login to your account.
5. Select the Folders You Want to Synchronize
Since OneDrive has limited storage, you cannot sync it all. Additionally, if you have just upgraded to Windows 10, you will need to manually select the folders you want to sync with OneDrive to fix OneDrive sync issues. First, right-click on the OneDrive icon in the notification panel and go to its settings. From here, go to the Account tab and click on the "Choose Folder" button.
In this way, you will get a pop-up window. Just check the folder you want to sync with OneDrive and click the "OK" button to apply these changes.
6. Disable the Office Upload
It has been observed that the automatic desktop download option can change the current operation of OneDrive. If your OneDrive is not synchronizing, go to its settings and click on the "Office" tab. From there, you should uncheck the "Use Office to synchronize the office files I open" option and save your selection by clicking the "OK" button. To resolve this problem, restart the player again.
7. Check if the File Path is too Long
According to the instructions given by Microsoft, your file path should not exceed 255 characters. If you have created various subfolders or have a long pathname, this may cause a OneDrive sync problem.
This is one of the most overlooked but most effective tips to help you solve OneDrive sync problems. Just go to your folders stored in the OneDrive directory and rename them to keep the file paths short.
8. Unlink OneDrive from your system
If you still have OneDrive sync issues after resetting, you need to unpack it from your PC and choose to manually sync your folders later. This can be done by going to the Settings option on OneDrive and selecting the "Accounts" tab. From there, choose the option "Ungroup OneDrive" or "Ungroup this PC" and apply the changes.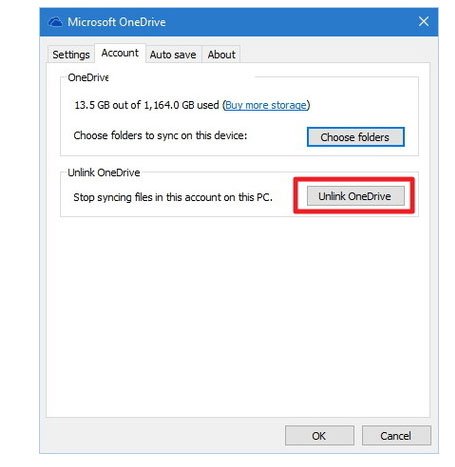 Later reboot your system and manually select the folders you want to sync with OneDrive.
9. Manage Your Storage
If you do not have enough space on OneDrive, chances are you are having a sync problem with OneDrive. First, check how much free space you have on OneDrive. Access your account here and log in using your credentials. From the "Storage" option, you can see the amount of free space you have on OneDrive. If you don't have enough space, try to free it to resolve OneDrive sync issues.
At the same time, you also need to make sure that your hard drive has enough space. Just go to your directory to check it. To manage the space, right-click on it and choose the "Properties" option. Go to the "General" tab and click "Disk Cleanup" to manage your storage.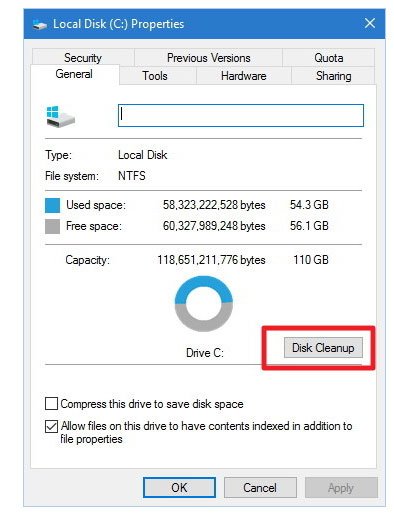 10. Manually Reset OneDrive
If nothing else is working, try manually reset OneDrive to resolve this issue. There are two ways of doing this. The first option is to run the prompt (by pressing the Windows key and "R" simultaneously) and enter the command:% localappdata% \ Microsoft \ OneDrive \ onedrive.exe / reset.
The other way is to open the command prompt (by pressing the Windows key and "X" and selecting the command prompt option) and enter the above command. After that, you will see now Fix OneDrive Syncing issue